Sandy Bay
---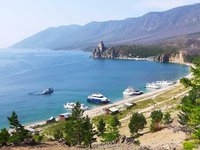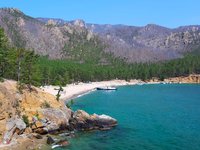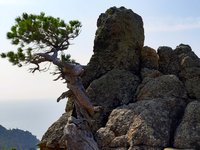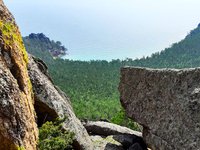 ---
07:00-08:00 Meeting the guide with the guests. Transfer to the pier in Listvyanka (for an additional fee, you can start the excursion from the pier "Rocket" in Irkutsk).
08:00-10:00 Boarding the boat, transfer to Sandy Bay. On the way, overlook from the sea side of the famous cape Skriper, Big Kadilny, Holed with various bizarre rocky remains, as well as the southernmost island of Lake Baikal called "Carmorant's Rock".

10:00-12:00 Arrival to Sandy Bay. Climbing to the Observation Rock (2.5 km), on the way back, visiting the rocky outcrops and stilted trees.
12:00-13:00 Lunch at Sandy Bay.
13:00-14:00 Walk to Cape Small Belltower. Inspection of rocky outcrops and grottoes at Cape Gendarme.

14:00-16:00 The passage to Grandmother Bay (optionally in the presence of free time extending to the bay and Dry Bay and Golden Cliff with rocky outcrop "Turtle" (8 km)). Free time for relaxing or swimming.
16:00-18:00 Transfer to Listvyanka village.
18:00-19:00 Embussing. Return to the city of Irkutsk.

Duration: 12 hours, 320 km.

Main attractions: village of Bolshiye Koty, cape Skriper, cape Big Kailniy, village of Big Goloustnoye, Cape Dyrovaty, Elephant Rock, Cape Chomuty, Carmorant's Rock island, Capes Small and Big Belltower, Gendarme rocky remnant, Buddha rocky outcrop, Grandmother Bay, Dry Bay, Golden Cliff and Turtle outcrop.

Visit to the museum: not planned.

The cost of the tour includes:
Rent an individual speed boat for 9 hours.
Excursion support throughout the trip.
One meal during the excursion.
Recreational fees for visiting protected areas.

Attention! The changes are possible in the time of the excursion program, in the order of displaying of attractions, as well as in the order of stops along the route on a will of implementer.
---
---
Price list:
| | | | | | | | | | | | | | |
| --- | --- | --- | --- | --- | --- | --- | --- | --- | --- | --- | --- | --- | --- |
| Number of people in the group | 1 | 2 | 3 | 4 | 5 | 6 | 7-10 | 11-13 | 14-18 | 19-23 | 24-32 | 33-39 | 40-49 |
| Price for 1 person in rubles | 79950 | 40380 | 27190 | 21820 | 17620 | 14820 | 14500 | 14280 | 12740 | 12150 | 9890 | 9310 | 7880 |
---