Springs of the Silver Valley
---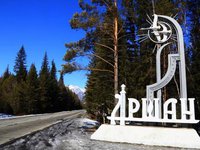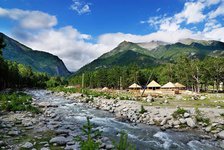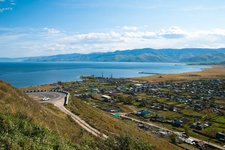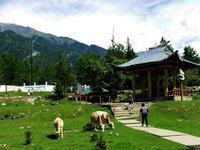 ---
8:00-10:00 Meeting with the guide. Departure from the hotel to the village of Kultuk. Stop at the Angasol loop on one of the best observation platforms on Lake Baikal.

10:00-11:00 Descent to the village of Kultuk. Walk along the ancient station on the Circum-Baikal railway to the memorable stele. Shamanic ritual on a successful road on the shore of Lake Baikal.

11:00-12:00 Entering the territory of the Tunkinsky National Park, visiting the Buddhist stupa Dashi Gama on the border with the Republic of Buryatia. Stop in the sacred place of Khoryooma Shuneken.

12:00-13:00 Overlook of the crater of an extinct volcano at Nyusegen ridge.
13:00-14:00 Transfer to the village of Arshan. Lunch in the village of Arshan in the traditions of Buryat cuisine.
14:00-15:00 Visit to the Khoimor Datsan, founded by the outstanding Buddhist figure and teacher of the Dalai Lama XIII called Agvan Dorzhiev.

15:00-16:30 Walk along the mineral springs along the Kyngarga River along the forest trail to the first waterfall.

16:30-17:00 Tasting the mineral water of the resort Arshan from natural sources. Walk along the market of medicinal herbs of Sayan mountains.

17:00-18:00 Transfer to the village of Zhemchug. Bathing in hot methane terms of Zhemchug mineral springs to wash off tiredness after a long journey.

19:00-20:00 Departure to the return journey. Dinner at the creative homestead of animator Mikhailov at the foot of the lapis lazuli coppers of the Bystrinsky ridges.

20:00-22:00 Return to the city of Irkutsk.

Duration: 14 hours.

Main attractions: Moty pass, Angasolka loop, Mounds at village Tibelti, Buddhist Stupa Dashi Gama, Cenozoic outcrop "White Yard", Wedding sacred larch tree Horoomoy Shuneken, Church of the Intercession in Tunka village, volcanic crater at Nyusegen ridge, Khoimor Buddhist datsan Bodhi Dharma in the village of Arshan, Mineral springs at Kyngarga River, methane terms of Zhemchug mineral springs.

Visiting the museum: not planned.

Restriction on age: none.

The price includes:
All transfers by the program.
Individual excursion support during the whole trip.
Two meals during the excursion.
Entrance tickets to museums.
Recreational fees for visiting nature conservation areas.
Attention! The changes are possible in the time of the excursion program, in the order of displaying of attractions, as well as in the order of stops along the route on a will of implementer.
---
---
Price list:
| | | | | | | | | | | | | | |
| --- | --- | --- | --- | --- | --- | --- | --- | --- | --- | --- | --- | --- | --- |
| Number of people in the group | 1 | 2 | 3 | 4 | 5 | 6 | 7-10 | 11-13 | 14-18 | 19-23 | 24-32 | 33-39 | 40-49 |
| Price for 1 person in rubles | 25650 | 13780 | 9820 | 8340 | 7050 | 6190 | 5680 | 5600 | 4960 | 4230 | 4160 | 3770 | 3620 |
---