Museum of Retromototechnics
---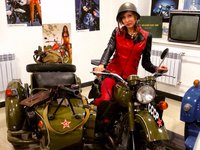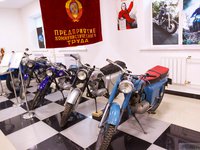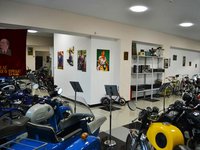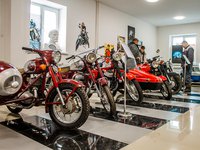 ---
The museum of retro technology and olden times that will allow you to plunge into the unique spirit of the USSR. All exhibits of the museum are collected by collector Vladimir Astafyev. Here are assambled literally on the bolts 40 models of old motorcycles well known to every Soviet boy - "Tula", "Minsk", "Ural" and many others. Only here you can feel yourself for many years younger and children can get acquainted with the past of a great country.

Duration: 3 hours.

Visit to the museum: Museum of Retromototechnics.

The cost of the tour includes:
the price of admission to the museum,
rent of comfortable transport for 3 hours,
service of a qualified guide for 3 hours.
Restriction on age: the excursion is not recommended for persons under the age of 12 years.
---
---
Price list:
| | | | | | | | | | | | | | |
| --- | --- | --- | --- | --- | --- | --- | --- | --- | --- | --- | --- | --- | --- |
| Number of people in the group | 1 | 2 | 3 | 4 | 5 | 6 | 7-10 | 11-13 | 14-18 | 19-23 | 24-32 | 33-39 | 40-49 |
| Adult, RUB | 5820 | 3380 | 2570 | 2470 | 2170 | 1960 | 1880 | 1580 | 1530 | 1420 | 1350 | 1260 | 1220 |
| School, RUB | 5340 | 2900 | 2100 | 2000 | 1690 | 1490 | 1400 | 1100 | 1060 | 950 | 870 | 790 | 750 |
| Preschool, RUB | 4870 | 2440 | 1630 | 1530 | 1220 | 1000 | 930 | 630 | 580 | 470 | 400 | 320 | 280 |
---