Planetarium
---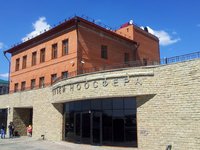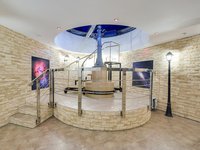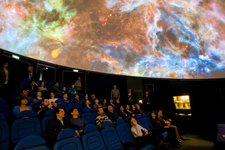 ---
During this excursion we will penetrate into the most interesting secrets of the cosmos, we will see how the Universe and its part – the Solar system – were born. For a start, we will visit the noosphere museum and learn about the origin of life on Earth. We are to get acquainted with the real aliens from space – meteorites, we will touch the real asteroid and see what cosmonauts eat. In the star hall of the planetarium, we are waiting for a review of the popular science film with a full-screen 360-degree view. On the fourth floor of the complex we will find an old telescope made in 1909 by order and with money from Irkutsk maecenas specially for the first observatory of Eastern Siberia. In good weather, we will observe the planets and the Moon, and also see solar prominences and the chromosphere of the Sun.

Duration: 3 hours.

Visit to the museum: Museum-planetary complex "Noosphere".

The cost of the tour includes:
the price of admission ticket to the planetarium, observatory and the museum "Noosphere";
rent of comfortable transport for 3 hours,
service of a qualified guide for 3 hours.
Restriction on age: none.
---
---
Price list:
| | | | | | | | | | | | | | |
| --- | --- | --- | --- | --- | --- | --- | --- | --- | --- | --- | --- | --- | --- |
| Number of people in the group | 1 | 2 | 3 | 4 | 5 | 6 | 7-10 | 11-13 | 14-18 | 19-23 | 24-32 | 33-39 | 40-49 |
| Adult, RUB | 5820 | 3380 | 2570 | 2470 | 2170 | 1960 | 1880 | 1580 | 1530 | 1420 | 1350 | 1260 | 1220 |
| School, RUB | 5410 | 2980 | 2170 | 2070 | 1760 | 1560 | 1470 | 1170 | 1120 | 1000 | 940 | 860 | 820 |
---