Museum of Nature
---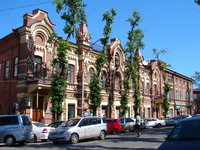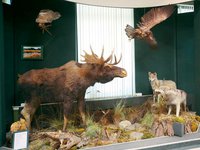 ---
Acquaintance with the richness of the wildlife of Siberia, during which we will plunge into the history of the development of the animal biodiversity of the Baikal region. We will see the giants of the Pleistocene jungles of the Baikal region and talk about the qualities of the climate development of these places. We will pay special attention to the modern Siberian inhabitants of the taiga and learn all that is possible about their habits and peculiarities.

Duration: 3 hours.

Visit to the museum: Department of Nature of the Irkutsk Regional Museum of Local Lore.

The cost of the tour includes:
the price of admission to the museum,
rent of comfortable transport for 3 hours,
service of a qualified guide for 3 hours.
Restriction on age: none.
---
---
Price list:
| | | | | | | | | | | | | | |
| --- | --- | --- | --- | --- | --- | --- | --- | --- | --- | --- | --- | --- | --- |
| Number of people in the group | 1 | 2 | 3 | 4 | 5 | 6 | 7-10 | 11-13 | 14-18 | 19-23 | 24-32 | 33-39 | 40-49 |
| Adult, RUB | 5300 | 2800 | 2000 | 1900 | 1600 | 1400 | 1300 | 1000 | 990 | 880 | 800 | 720 | 680 |
| School, RUB | 5100 | 2700 | 1900 | 1800 | 1500 | 1300 | 1200 | 900 | 880 | 690 | 620 | 530 | 490 |
| Preschool, RUB | 5000 | 2600 | 1800 | 1700 | 1400 | 1200 | 1100 | 800 | 720 | 600 | 540 | 450 | 400 |
---