New Year in Irkutsk
---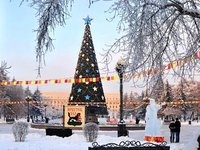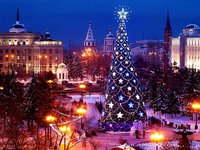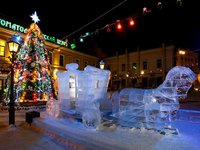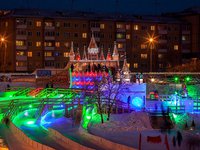 ---
The sightseeing tour around the city of Irkutsk, during which we will visit all the most beautiful places of mass festivities for the main holiday of the year. We will not only get closer to the coming event, but also will find out everything about the historically established traditions and rules of the Russian New Year. We will learn how to distinguish between Santa Claus and Father Frost, we will understand why the fir became the main New Year tree and find out when and how to decorate it properly.

Main attractions: Christmas tree near the cinema theatre "Barguzin", Christmas tree in the estate of the city head Sukachev, Christmas tree on Constitution Square, Christmas tree at trade center "Fortuna", Christmas Tree of Irkutsk on the Kirov square, Ice town at the center of stomatology, Christmas tree in 130 quarter, Christmas tree in the "Fashion Quarter", Christmas tree on the Upper Embankment, family-run ice park "Crystal Tale".

Duration: 3 hours.

Visit to the museum: not planned.

The cost of the tour includes:
rent of comfortable transport for 3 hours,
service of a qualified guide for 3 hours.
Restriction on age: none.

Attention! The excursion is held from December 22 to January 14. Because of the great demand for an excursion in the pre-New Year's time, it is necessary to order it in advance.

The excursion can be combined with a visit to: mountain skiing / tubing track (+ 250 - 2600 rubles), game-quest around the main Christmas trees in the city of Irkutsk (+ 350 - 700 rubles), a visit to the ice town (+ 200 - 400 rubles), a visit to the New Year performance in one of the theaters in Irkutsk (+ 100 - 600 rubles).
---
---
Price list:
| | | | | | | | | | | | | | |
| --- | --- | --- | --- | --- | --- | --- | --- | --- | --- | --- | --- | --- | --- |
| Number of people in the group | 1 | 2 | 3 | 4 | 5 | 6 | 7-10 | 11-13 | 14-18 | 19-23 | 24-32 | 33-39 | 40-49 |
| Price for 1 person in rubles | 5990 | 2990 | 1990 | 1830 | 1460 | 1220 | 1110 | 740 | 670 | 540 | 450 | 360 | 290 |
---