Around Irkutsk by the Retrotram
---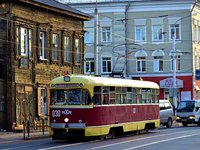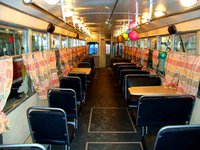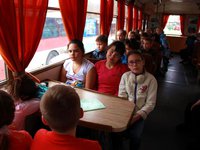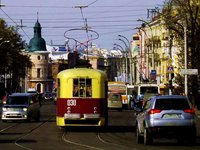 ---
A trip on the old Riga tram through the streets of the city of Irkutsk, which will help you to plunge into the spirit of the past. You will see sights that are rarely enter the bus tours. In just one hour you will visit the three oldest districts of Irkutsk: Sverdlov, Kirov and the Right Bank. With clanging of the wheels, you will reign in the city movement, because retrotram does not make stops. You will begin the way at the Cathedral of the Immaculate Heart of the Mother of God and start the descent from the Khaya mountain to the Irkutsk railway station. Then you will move to the right bank of the Angara River and get acquainted with the St. Charlambos church, as well as Lenin street. The tram will follow along Timiryazev Street along old merchants' houses and shops until the "Decembrists quarter". Further you will get to the Labor suburb when overcome another water artery of Irkutsk – the Ushakovka river. There you will see the Irkutsk prison castle and the beautiful Kazan church. The final point of the route will be the Bratskaya station in the Labor suburb, where the group will be met by bus.

Main Attractions: Cathedral of the Immaculate Heart of the Mother of God, Irkutsk Railway Station, Glazkovo Bridge, Irkutsk Post Office, City Writer's House, St. Charlambos church, Trinity church, Irkutsk Sloboda (130th Quarter), Monument to the Irkutsk coast of arms, Church of the Holy Cross, Church of the Entry into Jerusalem, Loft House on Timiryazev street, House of merchant Popov, The House of the Decembrist Mukhanov, Transfiguration Church, the House-Museum of the Decembrist prince Volkonsky, the Irkutsk Prison Castle, the Kazan Church, St.Vladimir Monastery.

Duration: 3 hours.

Visit to the museum: not planned.

The cost of the tour includes:
rent of tram for 1 hour
rent of comfortable transport for 3 hours,
service of a qualified guide for 3 hours.
Restriction on age: the excursion is not recommended for persons under the age of 7 years.
---
---
Price list:
| | | | | | | | | | | | | | |
| --- | --- | --- | --- | --- | --- | --- | --- | --- | --- | --- | --- | --- | --- |
| Number of people in the group | 1 | 2 | 3 | 4 | 5 | 6 | 7-10 | 11-13 | 14-18 | 19-23 | 24-32 | 33-39 | 40-49 |
| Price for 1 person in rubles | 10820 | 5400 | 3600 | 2990 | 2400 | 1990 | 1780 | 1170 | 990 | 790 | 650 | 500 | 430 |
---