Irkutsk Pillars
from 2100Р
(14 hours)
12+
---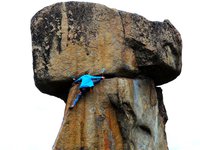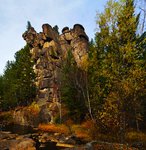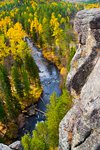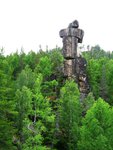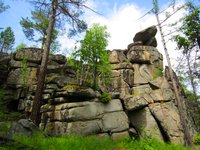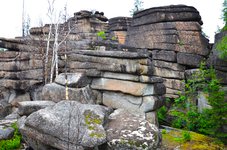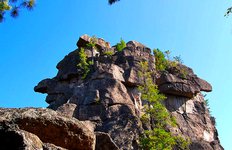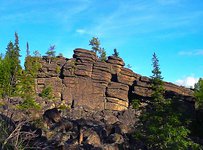 ---
At the very edge of the ancient Siberian tectonic platform, almost in the center of the triangle formed by the steel branch of Transab, the Angara River and the southwestern shore of Lake Baikal, bizarre rock outcrops appeared in time immemorial. Ancient Evenki and the Buryats were afraid to go to this place, honoring guardian spirits of the three great rivers marshy lowlands of Kumyr-Yasdo – Shabartuy, Olkha and Polovinnaya. Rocky outcrops, reminiscent of a something miraculous castles and palaces, then frozen in stone human faces, or the outlines of animals, proudly keep their secrets. Now these places attract thousands of people each year for its cleanliness and outstanding natural beauty. We invite you to touch these treasures during a one-day walking tour. The trip will begin in the morning at the passenger station of the city of Irkutsk, from there we will go by train along the valley of the Olha River, until we reach station Orlyonok. Next, we will to go up by the river to the rocky butte "Warrior". In case of good preparation of the excursion group, we will go further to the buttes called "Idol" and "Turtle", and from there to the largest outcrop named "Crone Izergil" until we return to the starting point of the route.

Main attractions: Butte "Warrior", Butte "Angarian", Butte "Siberian", Butte "Idol", Butte "Turtle", Butte "Stronghold", Butte "Crone Izergil", Butte "Bear Cubs", Butte "Mirrors".

Duration: 14 hours, 12-28 km.

Visit to the museum: not planned.

The cost of the tour includes:
the price of the ticket for train back and forth,
services of a qualified guide for 14 hours,
services of a qualified medical attendant for 14 hours,
two meals a day in the territory of the recreation center "Vityaz"
delivery to the place of residence after arrival in Irkutsk.
Restriction on age: the excursion is not recommended for persons under the age of 7 years.

Attention! Participation requires an inoculation against tick-borne encephalitis or medical insurance in case of a tick bite, as well as a repellent spray. In winter it is possible to organize a ski trip to Slyudyanka.
---
---
Price list:
| | | | | | | | | | | | | | |
| --- | --- | --- | --- | --- | --- | --- | --- | --- | --- | --- | --- | --- | --- |
| Number of people in the group | 1 | 2 | 3 | 4 | 5 | 6 | 7-10 | 11-13 | 14-18 | 19-23 | 24-32 | 33-39 | 40-49 |
| Adult, RUB | 21550 | 11080 | 7590 | 5840 | 4800 | 4700 | 4600 | 4420 | 4000 | 3350 | 2930 | 2550 | 2200 |
| School, RUB | 21450 | 10980 | 7490 | 5750 | 4700 | 4600 | 4500 | 4320 | 3900 | 3250 | 2830 | 2450 | 2100 |
---