Ascension Lutheran Church
---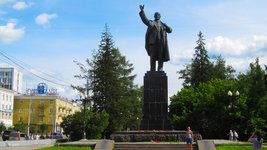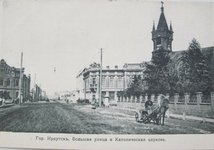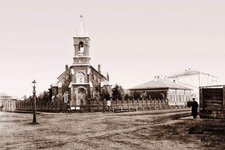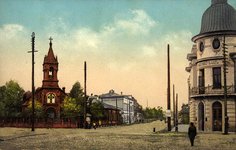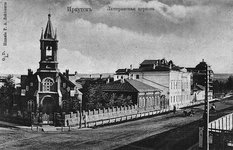 ---
In the center of the square opposite the polyclinic on September 23, 1952, a monument was esteblished to the founder of the party and USSR V.I. Lenin (a bronze figure, cast at the figured casting factory at the mint in St. Petersburg, sculptor Nikolai Vasilievich Tomsky (1900-1984), author of a huge number of monuments to Lenin, Kirov and Stalin (including on his grave near the Kremlin wall), creation his hands are a sculptural composition on the grave of the Unknown Soldier). Here solemn meetings, city pioneer gatherings were held. Flowers are laid at the base of the monument, faced with slabs of labradorite.

In ancient times, in its place in 1745 a geodesic school was opened - the first higher educational institution of the city. The school trained land surveyors and cartographers. People with such professions were urgently needed to study and develop a vast region. In 1754, on the basis of the Highest Decree, the Siberian governor Admiral V.A. Myatlev, by order, will transform the Irkutsk geodesic school into the Navigation school. It was the first vocational school in Irkutsk. The school trained navigators, land surveyors and teachers. In 1765, the Irkutsk school merged with the Nerchinsk school of navigation and geodesy, and in 1796 the Navigation school became part of the structure of the Main Public School. The school of navigation and geodesy was closed, but laid the foundation for secular educational institutions not only in Irkutsk, but throughout Eastern Siberia. A Lutheran church was built on the site of a building that was later disassembled.

The first Lutheran church in Irkutsk was wooden. It was built in 1826 on the corner of Spasskaya and Savinskaya streets near the office of the Russian-American company. Since that time, Spasskaya Street was called Saviour-Lutheran. In the fire of 1879, the wooden building of the Lutheran church burned down. Resumed construction in the mid 1880's, but already in stone and took away a piece of land in a new place - at the crossroads of the main streets of the city of called Great and Amurskaya. The work was completed and consecrated in the name of the Ascension of the Lord in October 1885, the author of the project was the architect G.V. Rozen.

Lutheran church was closed in 1919, and later occupied by the hostel of students from teacher's college. The library, which was located in two large cabinets in the choirs, was disposed of by order of the director of the institute. The church was completely demolished in 1952 before the opening of the monument to V.I. Lenin.
---
---